How to share internet from phone?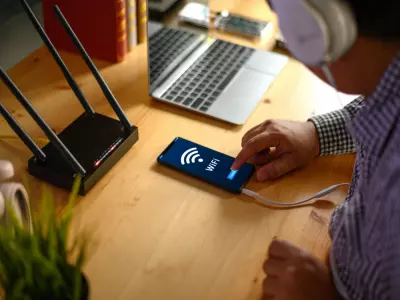 Do you travel often, do you have to work on the go or are you on holiday in the mountains, where you do not have access to a Wi-Fi network, but urgently need to do something on your laptop that requires an internet connection? The solution is simple and easy. The way to save the situation is by sharing your mobile data from your smartphone. How does this work?
Internet sharing from phone to laptop, tablet, computer, TV

Smartphones have a very useful feature called Hotspot. You need to have enough megabytes. What to do?
go to your phone settings
choose Mobile Data, Portable hotspot, Tethering. For different brands of manufacturers and operating systems is named differently.
set a password if desired
Ready. The newly created access point can now be found in the list of Wi-Fi networks on your laptop or other device.
The same goes for tablet sharing. The condition is that he has a SIM card with mobile internet.
A faster way to access this feature on Android devices is to swipe down from the top of the screen and select the Mobile Access Point icon (if added). For iPhone smartphones, it's like swiping your finger up from the bottom of the screen.

Share the Internet from a laptop or computer to another device
Turning a Windows 10 desktop or laptop into a mobile hotspot is also possible. You need to have a wired internet or a second network adapter, or two Wi-Fi cards, one of which will be for sharing.
By default, this feature of the operating system is hidden and you must activate it from the so-called Command Prompt. The steps are as follows:
press the Windows key and type "cmd"
right-click on Command Prompt and select "Run as an administrator".
in the window that appears, type: netsh wlan set hostednetwork mode = allow ssid = [SSID] key = [bpassword], replacing the SSID with the name you want to be your network and password with a password for it.
type "netsh wlan start hostednetwork" in the command line and press "Enter".
The function is now active. To disable it later, type "netsh wlan stop hostednetwork" at the command prompt and press Enter.
Then:
From the Start menu, select Network Connections.
Right-click on your core network and select Properties.
Go to the Sharing tab and check "Allow other network users to connect through this computer's internet connection" -> OK.
From the drop-down menu, select the network your computer is currently using -> OK
Ready! The access point on your device has been created.
Previous post
Next post
Last publications
Last publications