showroom ruse
4 Pencho Slaveikov Str. /
Look at the map
082/ 826166
Parking: 2 parking spaces
Open:
Monday - Friday: 09:00 - 19:00
Saturday: 10:00 - 14:00
Day off: Sunday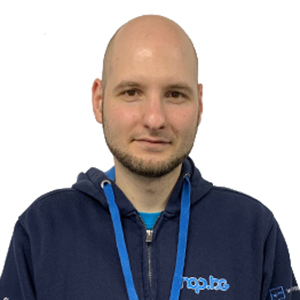 Daniel Danielov Trifonov
daniel@gis.bg
The hop.bg computer store in Ruse is located on "Pencho Slaveikov" street No. 4. There you will be welcomed and served by our competent consultants and you will have the opportunity to view quality second-hand computers in Ruse. The store offers a wide variety of IT equipment and accessories of established brands - Lenovo, HP, Fujitsu, DELL, Samsung, Apple. All products have been functionally tested by our service, cleaned and assembled for sale. Most of the products in the hop.bg computer store have a warranty of at least 6 months, which can be extended to 1 year, and Apple products have a one-year warranty by default. After you buy your desired second hand computer or second hand phones in Ruse, you can also take advantage of the support we offer , even after the warranty expires.
Our store in Ruse also has second-hand phones available, which are refurbished and can be purchased at an excellent price . There are various models of Apple smartphones, with a very good appearance, successfully passed the technical and functional tests in our service, cleaned internally and externally. You can see a variety of second-hand phones in Ruse at the store and choose the most suitable model for you. In the hop.bg store in Ruse you will also find printers, laptops, tablets, workstations, monitors, etc. – all products with decent technical characteristics from proven manufacturers in the IT industry. In case you like a product and don't have the funds available at the moment, you can take advantage of our favorable leasing terms and acquire it by paying it in installments according to the term that suits you best.
Hop.bg is a company that is constantly developing and improving, striving to satisfy all the needs of its customers. It has 5 showrooms located in several large cities in the country, its own warehouse and service center. In our stores you can find quality IT equipment and accessories - renovated