Samsung ML-3710ND laser printer review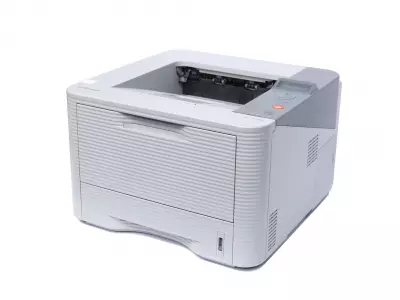 The Samsung ML-3710ND monochrome laser printer is designed to meet the needs of any business. The model offers the user qualities such as simplified use, safe and environmentally friendly operation, high print speed, low budget consumables.

The printer has a 600MHz processor and 128MB of internal memory, which can be expanded to 384MB, which contributes to faster printing. The print speed is 34 pages per minute (ppm) in A4 format and up to 37 ppm in letter format, with a resolution of 1,200 x 1,200 dots per inch (dpi).
The print speed of the first page is one of the highest for this class of printers - 6.5 seconds, which is tempting even for workplaces where single sheets or copies are most often printed, not only with a heavy load of dozens of copies.
To reduce the time and effort of printing multiple pages of documents, the printer is equipped with a standard tray that holds 250 sheets and a multifunction tray that holds 50 sheets. For heavy loads, a large tray for 520 sheets can be added by an authorized importer.
For small offices or low monthly print workloads, the printer is recommended for use on a network of several workstations. Which will satisfactorily reduce the cost of consumables and maintenance of several machines. When working in a network, the internet connection must cover a speed of 1 Gigabit.

The single-line display located on the printer offers the user access to a simplified menu, allowing quick and easy printing. The easy handling of the paper compartments allows you to print on different types of paper and cards.
With a monthly load of 80,000 pages, the Samsung ML-3710ND combines low cost and reliable operation. The toner cartridge easily covers the needs of a heavy load:
The standard toner cartridge prints 5,000 copies, standard A4 paper.

The large toner cartridge prints 10,000 copies of standard A4 paper, reducing the cost per page.
The eco-friendly design of the ML-3710ND monochrome laser printer provides low power consumption and several cost savings:
The printer's default settings are duplex, which saves paper by printing on both sides of a sheet.
Eco settings allow you to manually select the print format to save more paper.
The eco button puts the printer in Toner Save mode, making large toner cartridges more efficient.
With the Samsung Result Simulator printer software, you can keep track of exactly how much carbon dioxide, electricity and paper are being reduced.
Samsung ML-3710ND is relatively small with its physical dimensions (366 mm x 368 mm x 252.9 mm) and will definitely save valuable office space when working in network conditions, it can be easily assembled on any desk.
With a noise level of only 52 dBA (decibels), the device offers a comfortable working environment. At rest, the noise level is only 26 dBA.
Previous post
Next post
Last publications
Last publications