How to choose the best robot vacuum cleaner?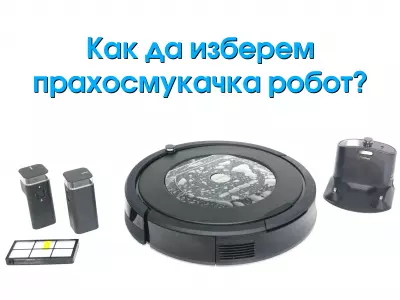 Undoubtedly, the robot vacuum cleaner is an innovative and indispensable helper for households and the workplace. It is increasingly becoming a preferred cleaning agent and, above all, a desirable asset for people with a very busy schedule, who do not have much time left for housework. And we all know that perfect hygiene is important for our health.
And here, as well as when choosing to buy any equipment, we ask ourselves how to choose the best at the lowest possible price. We often look for opinions about the best vacuum cleaner from consumers who have already bought, are about to buy or are considering buying, but are hesitant.
To help you choose, we will focus on the features, characteristics, performance, advantages, disadvantages and design of this type of device and why you should have such a home helper.
Functions and characteristics

Manufacturers of robot vacuum cleaners offer models with a variety of features, such as:
automatic charging

wall sensors

height sensors - prevent the robot from falling from a height, for example on stairs

virtual walls

anti-entanglement sensors

sensor for more contaminated areas

setting a cleaning schedule

management via mobile application - this is a function mainly for keeping statistics

dry and wet cleaning

docking station with additional compartment for emptying the container



The more features a vacuum cleaner has, the better. But undoubtedly as the most important of them we can point out:
automatic recharging - when the cleaning program is over, the robot returns to its charging station. Or if the battery charge has dropped before cleaning is complete, the robot recharges at its docking station and continues cleaning until the program ends.

scheduled cleaning - this is a very convenient and preferred feature for models that cannot be controlled by an application on our smartphone. We simply manually set a schedule (days, dates and hours) and the robot cleans for you, whether you are at home or not.

virtual barriers (virtual boundaries) - these are additional accessories that are definitely useful when we do not want the robot to access a certain area (for example, our pet feeders, fragile objects).

light touch function - some models in the higher price range have more than 40 programs to take action after the device touches an object and can "judge" whether it is a wall and will move on it or is a leg of a chair and will bypass it.
Advantages
mobility

compact design

noise level

programming
Unlike conventional vacuum cleaners, robot vacuum cleaners reach almost every corner of the room, they can clean in your absence after a pre-set cleaning program and schedule, the noise level is relatively lower.
Disadvantages
This is probably the first factor to consider when choosing a robot vacuum cleaner. It is important to note that most cheap models do not do well with cleaning carpets and rugs with longer hair, and some even have sensors that can prevent them from working effectively on dark surfaces.
We still can't say that the robot vacuum cleaner 100% replaces the classic vacuum cleaner, but it largely handles basic dust collection and is ideal for maintenance cleaning.
Productivity

The best robot vacuum cleaner is:
with a long service life - up to two or more hours.
Some models with less operating time may have a longer charging time, which makes them inconvenient, especially if the room has more rooms.
Most models create the so-called. A "map" of the room in which they clean and thus "remember" where they cleaned.
Other models clean at random, back and forth, in a spiral, etc.
It is very important to pay attention to the type of brushes. It is best to make them silicone, as they are easier to clean.
Preferably the filter should be HEPA, especially if you suffer from allergies.
Cheaper models, although batteries sometimes last longer, are slower and do not cover a large area.
The more expensive ones can cover up to 300 square meters.
Design

The robot vacuum cleaner is designed to be compact and mobile and thus reaches places where traditional vacuum cleaners fail - under beds, sofas, cabinets.
And in order not to leave traces and to avoid the risk of injury to our furniture, it is good to choose a model with soft rubber bumpers. And the better I po-skypi models also have special technologies that reduce the speed when approaching an object and do not injure the surface when touched (do not entangle or tear curtains, tablecloths, curtains, etc.).
Based on many of our tests and studies, the iRobot Roomba 805 is an optimal solution for every home and office.
More information about the product itself, how it works, what are its advantages, why to choose this particular model and why to buy it at a low price from Hop.bg you can see in our review here - Review of iRobot Roomba 805
Previous post
Next post
Last publications
Last publications