HOP.BG - 20 years of experience in trading refurbished computer equipment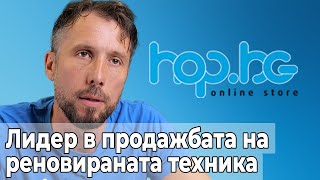 Hop.bg has many years of experience in trading in refurbished computer equipment both in Bulgaria and in Europe. Would you like to know more about us and our business? Watch our short video to hear company manager Vladislav Dimitrov tell about Hop.bg.
Development
How and when did we start? How many physical showrooms do we have, and where are they located? Which one is the first and which one – the newest? Find out more about our store network, our storage facilities, as well as our future ideas and goals in the video.
Service
It is important for us that you, our customers, receive high quality and thoroughly checked equipment as well as that you feel comfortable when visiting any of our premises. Find out more about the situation as well as why we guarantee you quality up to the highest standards.
Why choose Hop.bg?
We are a company with proven experience and practice. Over the years, we have gained the trust of many retail and wholesale customers. Take a glimpse behind the scenes, and find out why Hop.bg is the number one refurbisher in the country.
Previous post
Next post