How to extend the battery life of the iPhone?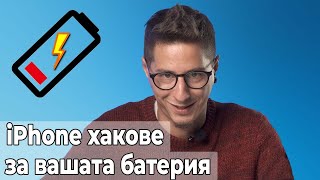 Over the years, technology's dynamics and development have made smartphones an indispensable part of our daily lives. We use smartphones to communicate with friends and colleagues, to share important moments on social networks, we use them for work and entertainment. Or, to put it briefly, they are mini computers in our pocket.
Increasingly, users have complaints about the battery life of their phones. And more specifically, Apple fans. For some of you, charging your device 1-2 times a day is no inconvenience. For others, this is not a minor flaw.
How to extend the battery life of your iPhone? What drains the most energy? Watch our short video and you'll find out how to deal with this. Following our tips and recommendations, you will see for yourselves that there are easy ways to save your iPhone's battery.
Previous post
Next post