Is it worth buying an iPhone 11 in 2021?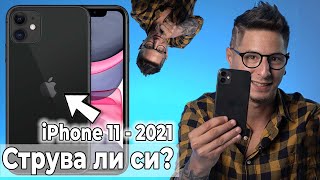 Undoubtedly, in Apple's 11th generation smartphones, one of which is iPhone 11, we notice significant changes in comparison to their predecessors. What improvements has the manufacturer made to this model, and is it still worth buying in 2021? Watch our short video and see for yourself.
What features does iPhone 11 provide us?
Some users prefer larger screens, others want the camera to have technology and features that are lacking in the previous phone models of the brand. Will you be able to take better photos, will the screen size be sufficient for you, what is the battery life? All this, and more information we present to you in the video. See it.
Should we choose new or used?
At Hop.bg you will find second-hand refurbished iPhone 11. All the devices have undergone a full quality check as per the highest criteria as well as functionality check of all their elements. In this way, you get a product in proper technical condition, indistinguishable from that of a new one, with a 12-month warranty. And the price you'd pay is much lower than that of a brand new device.
Order from our online store or visit our showrooms throughout the country, and make your choice.
Previous post
Next post