Is it worth buying an iPhone X in 2021?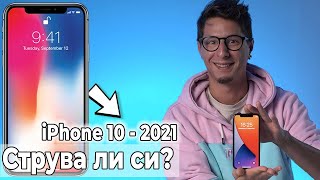 The anniversary smartphone of the Apple brand - iPhone X, also known as iPhone 10, was released on the market in 2017. With this model Apple imposed new trends in some key areas of its phone line. What were they? Is it still worth buying this phone today? You're about to find out by watching our video review.
What are its advantages?

For each new model, often the changes and improvements made to it are also its pluses, namely - size, display, sensors, camera, etc. Watch the video to find out how the smartohone is different from the previous generation models.
Refurbished or brand-new?
By purchasing a used iPhone X from Hop.bg, you can be sure that you get a fully functional and tested device, with proven origin and a 12-month warranty. And all that at a much lower price than you would pay for a new one.

See for yourself if you want to own this Apple smartphone - by visiting our stores throughout the country, or by ordering it online.
Previous post
Next post