Samsung M4075FR - all in one at a great price!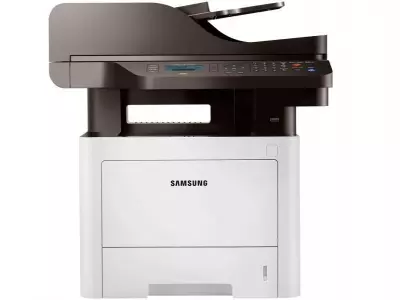 The multifunctional device is an important helper and mandatory equipment for every office. And high-quality and fast printing are an important condition for the device we should choose. We at Hop.bg offer you the Samsung M4075FR model, which is of a professional class with a duplex and a network controller.
Its multifunctionality consists in the following:
Print documents at a print speed of 40 ppm

Fast copying of documents

High scan speed

Send scanned files directly to email (mail2scan function)

Price per copy less than half a penny
The product is suitable for offices and small businesses and covers the need for continuity of the printing process.
One of its strongest advantages is that it can copy and scan multiple pages on both sides automatically, without the need for human intervention. This is thanks to the DADF (Automatic Document Feeder with Duplexing Capability) function. As well as parallel printing of different types of print formats, ADF and MultiPurpose Tray work separately.
No less important is how much it would cost us to print for one page and, accordingly, what our monthly cost will be.
ProXpress SL-M4075FR and a high quality Samsung product that is a cost effective solution and a reliable facility for your business. The manufacturer offers toner cartridges with different capacities for the model - for 5, 10 and 15 thousand copies, and the price per page print can be calculated as follows:
15,000 copies - under half a penny

10,000 copies - about half a penny (0.0059 BGN)

5,000 copies - less than a penny
The SL-M4075FR also saves time - the device allows you to print bulky files for a shorter period, as it supports up to 512MB of internal RAM.
Convenient, easy to use and functional!
The model also has a numeric keypad for menu navigation and settings, and for office security a PIN code setting is provided (a password is required to perform a print job).
With the Samsung Mobile Print application, wireless printing is possible directly from tablets and smartphones in the range of the office wireless network.
The ways to connect are:
USB cable - for direct connection to a computer / laptop.

Network cable - for connecting to an office network and shared printing from a large number of jobs.

Direct printing from USB Flash Drive

M4075FR offers a clear and dense print with a resolution of up to 1200x1200 dpi.
The monthly load of the printer is about 100,000 pages, which we believe is enough for the needs of most offices in Bulgaria.
And last but not least, the renovated multifunctional device Samsung ProXpress SL-M4075FR is available in Hop.bg with a 6-month warranty!
Previous post
Next post
Last publications
Last publications