How to choose a laptop for work?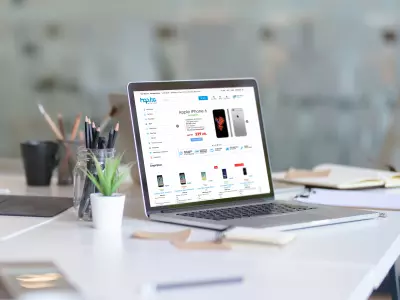 Every consumer when deciding to buy a laptop asks questions such as "how to choose the best at the lowest price", "new or used", "which brand", etc. The choice is difficult because there are different models and brands, features and designs on the market. The most important thing is to answer the question of what we will use it for:
office work (documents and communication)

professional use - photo and video processing (Photoshop), graphic design (CAD systems), programming

entertainment at home - music, movies, internet.
And to help you choose, here we will emphasize important specifics that you should pay attention to when choosing which laptop to buy.
Processor


A key role for performance and speed is CPU speed. Weaker processors are Celeron, Atom and Pentium by Intel and E-series by AMD. The most popular are Intel's i3, i5, i7 and AMD's FX- and A-series.

Random access memory (RAM)


It is also important for the performance of the laptop. Most machines offer the option to upgrade, ie. have additional RAM slots.

Video card


It can be built into the processor (Intel HD Graphics) or on a separate board. It is important if the laptop will be used for games or heavy programs.

Data storage memory


So-called hard drives can be of two types: a standard HDD or SSD, which is based on the principle of flash memory. The first type is slower and more energy efficient, but is a more secure medium. SSDs are more reliable because they lack a mechanical part, withstand vibration, fail less frequently, are more energy efficient, and have higher data transfer rates.

Size


There are three main types on the market:

u

ltrabook

- thin and light, super compact laptops;

s

tandard

- the most common are from 14 to 17 inches;

h

ybrid laptop / tablet

- they have touch screens. On some models, the keyboard detaches and the device can only be used as a tablet. For others, the screen opens up to 360 degrees, which also allows you to work in "tablet" mode.

OS


Windows, Mac, Linux and others. Which one you choose also depends entirely on the applications you use.

Connection capabilities (interfaces)


They are largely important, as it matters whether you connect peripherals (mice, flash drives, printers), external monitors or a TV.
Laptops for work at home and office



Generally speaking, each configuration is suitable for basic applications such as email clients, Internet browsing, music, movies, documents and spreadsheets. What determines how much you will load the system with the number of open subsections (tabs) in browsers, how many applications you will want to run simultaneously, what video file format you will open, the screen diagonal and of course your personal design choice.
Intel processors - Celeron, Pentium, Core i3, Core i5, Core i7, AMD E-series, RAM from 4GB to 8GB, built-in video card are enough for a lighter load.
For medium load - at least third and fourth generation of Intel Core i5 and Core i7 processors, AMD A8-series, RAM from 8GB to 16GB. It is recommended that the hard disk be an SSD type because of its high speed when writing and reading data.
Laptops for professional use
These are the so-called mobile workstation models (Dell Precision, HP ZBook, Fujitsu Celsius, etc.) or powerful configurations with quad-core processors, external video card (nVidia Quadro, AMD Fire Pro), over 16GB RAM, SSD, high resolution display and IPS screen.
The applications for processing photos, videos, drawing, rendering, 3D animations, modeling, some programming software, as well as their respective versions are applications for complex calculations and have certain system requirements that must be considered when choosing a laptop for such. type of work.
Once we have clarified the purpose and configuration of the laptop, we choose a specific model. Do not choose by brand and color, choose by quality, ergonomics and functionality.
In the stores of Hop.bg you will find second-hand high-end laptops from proven manufacturers. Our consultants will answer any questions you may have about choosing a device, as well as give you guidelines and recommendations according to your requirements and preferences. And last but not least, the laptops in Hop.bg have a 6 month (with the possibility of 12 months) warranty.
Previous post
Next post
Last publications
Last publications