Dell and Alienware demo laptops and monitors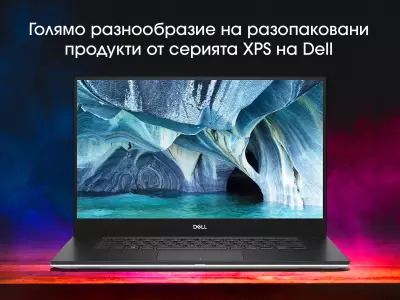 We at Hop.bg are pleased to present you our new additions, demonstration products of the technological giant DELL.
The models we offer are the best and most up-to-date of the brand.
In the category you will find a variety of models for different needs
office work
work with professional applications for 3D modeling and video processing
CAD / CAM
Gaming
ultrabooks, thin and light laptops, for users who are often on the go.
Laptops for gamers
Here, the performance and speed of the processor and video card are essential. That is why the models we offer have configurations of Intel Core i7 and Intel Core i9 processors 8th, 9th and 10th generation. The graphics power is provided by video cards such as NVIDIA RTX 2080, GTX 1650, 1050 TI, 1660 and others.
Some models have 4K resolution, IPS or OLED display technology and a 144Hz screen.
Professional laptops
Or also known as mobile workstations. Suitable for designers, engineers, architects, working with software products for technical drawing, rendering, digital image generation, 3D animations and more.
For this purpose, the Precision series models, which are configured with Intel Core i7, i9 and Xeon processors and a professional NVIDIA Quadro video card, will be your true helpers.
Office laptops
The models from the Inspiron series have a resource to deal with all office applications and in a short time perform many tasks - documents, spreadsheets, e-mail, internet, presentations. And are suitable equipment in the long run.
Thin and light laptops
Well-known ultrabooks are suitable for users who often have to work on the go. Some models in the XPS and Latitude series are the size of a notebook (A4) and easily fit in almost any bag.
Another type are laptops with the function to be used as a tablet (2-in-1) - a convenient tool for business meetings, project presentations, notes and last but not least - correspondence.
These include standard 15-inch laptops (XPS 15), which are also easily portable for their size.


Gaming monitors

The models from the Alienware series are typical representatives of this class. They are specially designed to facilitate and improve the gaming experience.
They have curved screens for a larger viewing angle, IPS technology, over 2K resolution, refresh rate over 100Hz and less than 5 ms response time. Also special technologies for color enhancement, ready modes for different types of games - color schemes and filters.
Professional monitors

UltraSharp is Dell's highest series of monitors and widely preferred by the business.
Increasingly, there is a need for large screens, for a larger desktop or just to be able to work with several applications simultaneously.
The 49-inch model is a suitable solution. It has a curved screen and twice the resolution of standard screens. And its greater width provides a continuous view of long tables, multitasking (working with multiple applications in almost full size with open windows) and works with any operating system. Easily replaces two 27-inch monitors, for example.
Undoubtedly, products of this class (Alienware, XPS, Latitude, UltraSharp) are very expensive on the market for new computer equipment. In Hop.bg you have the opportunity to buy them at a much lower price, but with the same high quality, meeting the standards of Dell and the condition of the unpacked product.
And to ensure your peace of mind, each product passes full functionality tests and you receive it with a 12-month warranty.
Previous post
Next post
Last publications
Last publications