What is digital license for Windows?
Since 2021, the Windows operating system has only been available with digital licenses. What does that mean? You will find that out in this article. Some changes have been made that we will present to you now. This shouldn't worry you, as you only need to remember several important things. At the same time, this will make things a lot easier for you if in the future you need to reinstall your laptop or computer. Here's what's new:
Installation and Settings of Windows 10 Home and Pro
By purchasing a laptop or computer from us, with either version of Windows, you get it with an installed operating system. The difference is that you have to complete the initial settings yourself. The procedure is similar to that when you buy a brand new smartphone, for example, and you need to choose a region, language, time zone, create user account and password, as well as personalise it (giving consent to receive messages, send data, diagnostics, etc. to improve your performance with Windows). Due to the specifics of the changes introduced by the company, we at hop.bg cannot complete these settings.
Activation Key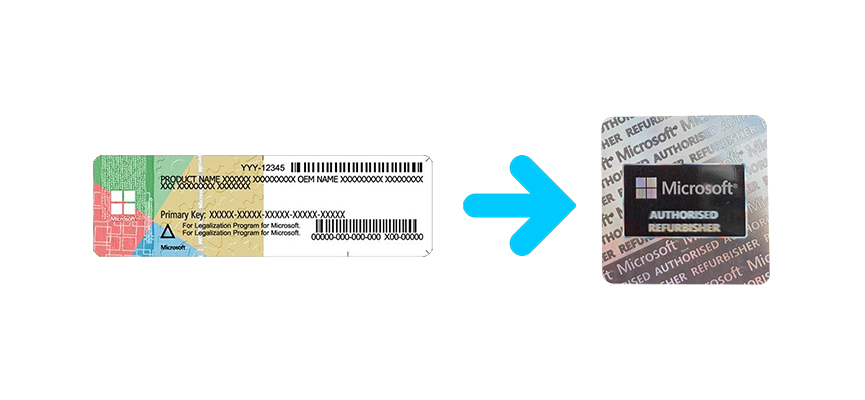 You no longer have to manually type in the 20 characters from the paper key to activate Windows. Now it connects to Microsoft Cloud at the initial installation. This means that with each subsequent reinstallation your device will always be licensed. The condition is that it is the same version (10 Home or Pro). And you also have to be connected to the Internet.
Activation period
As the licensing is digital, the process of checking the provided activation code to the respective computer configuration is performed by Microsoft. It is absolutely mandatory when you start your computer that you connect to the Internet and you complete the settings. Activation itself will be automatic, within 7 days.
It is very important to note here that until Windows is enabled, you should not replace or add any components (hard disk, SSD, RAM, processor, etc.). Otherwise, you risk losing your license. After successful activation, you can upgrade your computer or change its configuration – as long as you do not violate its warranty.
Sticker
With any laptop or computer purchased with Windows 10 Home or Pro will also receive a sticker, which certifies that the device is digitally licensed. The difference with the previous stickers we provided to you is that with the new ones there is no activation key, because as we have already mentioned, you do not need it.
As an official Microsoft partner, we at hop.bg offer you the opportunity to buy computer equipment online or from our physical stores with a licensed Windows 10. If you still hesitate or do not know which Windows version to choose, you can read about the differences between Windows 10 Home and Pro.
Previous post
Next post
Last publications
Last publications