How to choose a computer?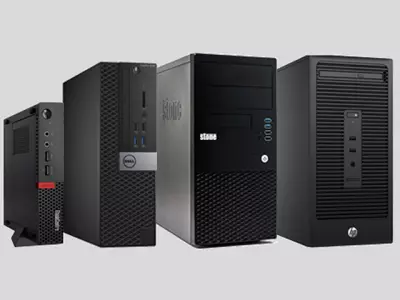 When choosing a laptop, just like when choosing a computer, we ask ourselves the same questions before deciding what to buy. Which model meets our needs? New or second-hand? Which brand? Where to buy it at an affordable price and of high quality? The variety of brands, models, configurations and design is quite large. In addition to the price, which is a leading factor in purchasing second-hand equipment, we have to take into account some basic characteristics, which we have also looked at in laptops. We'll remind these to you so that you can answer more easily the question "Which is the right computer for you?"
Motherboard
If you're going to assemble your machine yourself, this is a very important element. It depends on the motherboard whether the other components will be compatible, i.e. what processor models and what type of RAM memory you can install, what should be the power supply, and what video cards can be supported. But here we will not discuss these in detail, because at hop.bg we offer business class devices, and they come from the manufacturers as ready-made solutions.
Processor
Its speed determines performance and operational capabilities. The most preferred processors are Intel Core. If you are not familiar with them, you can get informed about the differences between Core i3, i5 and i7. Also preferred are AMD's FX-, A-, Ryzen and some other series. Less common and slower than the previous ones are Intel's Celeron, Atom and Pentium, and AMD's E-series.
RAM
It is also decisive for CPU performance and speed of operation. It can be DDR3 or DDR4. The difference between the two types is that the second works at a higher frequency, thus providing greater speed. It is compatible with the newer processor models. Wide spread are computers with 8 GB of RAM. They are upgradeable, and according to your needs you can always add more memory.

Operating system and data storage space




Data is stored on disks that are two types – SSD and HDD. SSD disks are faster for data transfer than HDD disks, which on the other had are energy-saving. There are computers with both disks available.

Video card
Video cards may be built-in or external. For example, Intel HD Graphics are built into the processor, and the external are standalone modules which we add to the computer's motherboard. What should be the video card depends on the activity we will perform and whether it can be added.
Size
There are several types of form factors defined by the size of the box: Ultra Small Form Factor – these are mini computers that are comfortable even to carry; Small Form Factor – these are among the most compact, suitable for the home and the office; next in size are Desktop – in this type the box allows for larger capability for machine upgrade; Tower have the largest boxes, and are suitable for professional use, because there is room for many components.
Operating system
The most commonly used operating system is Windows. MacOS (for Apple) and Linux are also used. What will be the OS depends entirely on the work you will do.
Connection options (interfaces)
The interface is of great importance because it allows us to connect peripheral devices such as monitor, keyboard, mouse, flash drive, printer, TV, etc.
And now, to give you more precise guidelines, we'll see how to choose a computer according to its purpose.

Computers for the home and the office
These are cheap computers for home usage, such as watching movies, listening to music and surfing the internet. To this end, any model will do a great job. The same applies if we will be using a device in the office and working mostly with documents and tables.
Any processor such as Intel - Celeron, Pentium, Core i3, Core i5, Core i7, in addition to 8 GB RAM and a built-in video card will handle these tasks. In this case, the most important is the space we have at home and the design of the office.
Computers for professional use
These are powerful computers from the workstations class. When it comes to processing of photos and video, modeling, rendering, drawing, 3D animations, specialised software, we will have to take into consideration the system requirements of the programs we will use.
First, we will need a powerful processor (at least 4-core, and from the newer generations – sixth generation and higher Intel Core i5, i7, i9, or models from the Xeon series). More RAM (at least 16GB). More data storage space and an SSD disk. Also an external video card – according to our needs we can choose between models from the brands NVIDIA Quadro and AMD FirePro. We need to choose a computer with multiple interfaces so that we can connect all the peripheral devices we need.
Gaming PCs
Like those for professional use, the gaming PCs should also possess a certain power and characteristics. Of great importance here, in addition to the processor, is the video card, which should be a gaming class – for example, the nVidia's GeForce models. Each game has certain requirements as regards the technical specifications of the machine in order to run the game smoothly and without the so-called lags (stuttering and delays of image and scenes). Here are more detailed guidelines how to choose a gaming computer.
At the hop.bg online store you will find business class refurbished computer equipment for all purposes, at an affordable price, and with a 6-months warranty (with an option to extend it by 6 more months). It does not matter whether you choose Dell, HP, Lenovo, or Fujitsu. It is important to know what you will use it for so that we can give you an optimal offer if you can't choose by yourself. We also offer a leasing purchase option, be it when visiting our retail outlets in Sofia, Plovdiv, Varna, Ruse, and Pleven, or when placing an online order.
Previous post
Next post
Last publications
Last publications