Is it worth buying an iPhone 8 in 2021?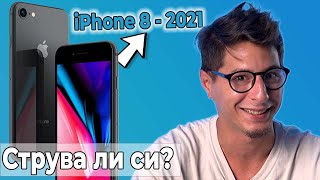 Apple's iPhone 8 model of 2017 is a great smartphone, which is still preferred, even today, by many users because of the wide range of advantages it provides. What are they? Why buy it even in 2021? You'll find that out by watching our short video.
Functionality and design
As regards iPhone 8, we can undoubtedly say that it is compact, lightweight, and has a comfortable grip. It also has a Home button with a fingerprint sensor, which is still a desired option.
In terms of the technical characteristics, users are largely interested in battery capacity, camera, and speed of operation. Do you want to know if iPhone 8 is suitable for you too? Take a look at our video review.
What's its price?
At the Hop.bg online store, as well as in the physical sites throughout the country, you will find used but fully refurbished iPhones 8 as well as the larger version 8 Plus, at an extremely low price and with a 12-month warranty. We guarantee you an excellent technical quality and a very good cosmetic condition.
Previous post
Next post