Why you should buy refurbished laptop?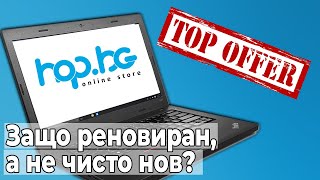 When it comes to buying used computer equipment, it is quite normal for every user to have questions regarding that equipment's origin, technical and cosmetic quality. Watch our short video to find out why to purchase a refurbished and not just a second-hand laptop.
Performance and appearance
As we have already mentioned, each product undergoes full functionality tests and cleaning. We also use a specialized software to check the battery life. In this way, we guarantee that your device will get to you in an excellent working condition.
What do refurbished laptops look like? They are often in a very good cosmetic condition, but as this is used equipment, sometimes there may be slight traces of use. See more information about the appearance in the video.
Why refurbished and not brand-new?
The used portable computers at Hop.bg are of high business class and produced by established manufacturers in the industry. This is one of the main advantages, and it shouldn't be underestimated. The price you would pay for these devices when new is up to three times higher.
By purchasing a refurbished laptop from Hop.bg, in addition to the low price, you will also get a quality, indistinguishable from that of a new product, and a 6-month warranty (with the option for 12 months). See for yourself by visiting our showrooms throughout the country, or by ordering online.
Previous post
Next post