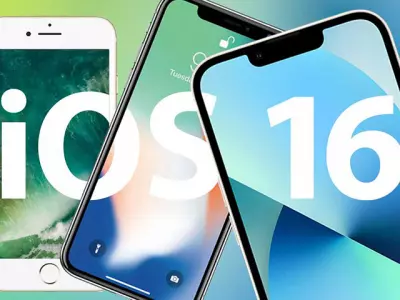 Most iPhone users may already know this, but for those of you who have not heard the news yet, we at hop.bg want to inform you that on June 6 Apple announced their major annual updates to the operating system. After the successful release of iOS 15 in 2021, we expect the 16th version to fascinate us with many new features.
iOS 16 new features
This is the issue that keeps in suspense most of the brand's fans. Let's take a look at some of the novelties Apple have announced on their official website so far.
Apple has finally announced support in Bulgarian. Probably this is the news that many of you were looking forward to hearing. You will now be able to enjoy Bulgarian menu, Voice Over, and Spoken Content.

The Lock Screen has been completely redesigned in iOS 16. Widgets, custom fonts, and animated wallpapers have been added. The new Lock Screen is highly customizable and users can create multiple different Lock Screens associated with the Focus options.

The redesigned user interface of the video player is cleaner, unnecessary clutter has been removed. At the same time, basic controls such as Volume, Playback/Pause, and Picture in Picture have been emphasized.

Improved settings, including reorganised iCloud settings page, easier way to manage Wi-Fi networks, etc.

When you connect AirPods headphones, a new corresponding symbol for your AirPods model will appear in the Now Playing section in the Control Center and on the Lock Screen. This replaces the old AirPlay icon, which remains static, regardless of which device you are using.

iOS 16 will now alert users when the iPhone isn't charging due to overheating, which can damage battery life. The new notification will appear on the Lock Screen, the Notification Center, and the Battery page in Settings.

The Contacts app will now show if you have unread messages from a specific contact.

The Messages app has an added ability to edit/delete messages.
These are just some of the main features and improvements we can expect. And now we will address another important issue that affects iPhone users, namely:
When will the update be released?
Apple has said that the new update will be released in the autumn, but no official date has been announced yet.
Judging by last year's iOS version 15, which Apple released on September 20, Monday, iPhone fans expect iOS version 16 to be released on September 19 (also Monday), or on another date, but in the same week. In fact, this big event always happens in the autumn, alongside the launch of the new iPhone model. Additional releases (iOS 16.1, 16.2 and so on) follow in the weeks after and contain bug fixes and additional features.
Which iPhone models are compatible with iOS 16?
Apple said the new version of the operating system will be supported on all iPhone models from iPhone 8 on. That is, users of the models before 2017 will not be able to take advantage of the updates. And these are:
iPhone 6 and 6 Plus

iPhone 6s and 6s Plus

SE first generation;

iPhone 7 and 7 Plus.
This does not mean that these devices will stop working. On the contrary, you can continue to use them, but with their current iOS version. If you want to enjoy the novelties or just want to be more up-to-date, you may consider buying a newer iPhone model.
And, while you are waiting for iOS 16 to become a reality, you can check out our great offers for second-hand iPhones in the hop.bg online store as well as on premises in our physical showrooms. We guarantee excellent technical quality, indistinguishable from that of new products. All iPhone models come with a 12-month warranty and a low-interest instalment purchase option.
Previous post
Next post
Last publications
Last publications