How to create Apple ID account?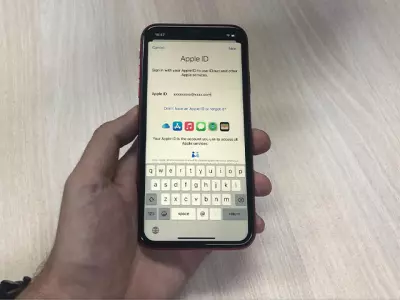 You decide to buy an Apple smartphone, tablet or laptop for the first time in your life. Whether it's a brand-new device or a second-hand iPhone or iPad, in order to use it fully, you'll need an Apple ID. What's that? Also known as iCloud, this is an account that allows you to access all Apple services, some of which are:
storing files, contacts and other data types in the cloud (iCloud);

downloading apps (access to the App Store);

working with built-in apps (Mail, iTunes, Face Time), etc.
How to create an Apple ID?
This is an easy procedure; however, it requires your attention. And here are the steps how to do it via an iPhone or an iPad, whose default settings have already been set:
Go to Settings, then select Sign in to your iPhone/iPad. Before that, however, it is necessary to make sure that the device is connected to the Internet.

A window opens where you are required to enter an email address. But since you don't have an account yet, you click on Don't have an Apple ID or forgot it?

A dialog box will appear where you choose Create Apple ID.

You have to fill in your details – names, date of birth, then click Next.

Enter your email address. You can use, for example, an existing Gmail account, or you can create a new iCloud email by clicking on Do not have an email address?

Create a password. This step is very important, and you need to be careful what you write. The password must contain at least 8 characters, a digit, a capital letter, and a lowercase letter. Also, it should not contain your name or email address.

Enter your phone number and select a verification method – by text message or by phone call. You will receive a code that you need to enter in the respective field if you have selected the Text message option. And if you have selected the Phone call option – the code will be filled in automatically.

Read and agree with Apple's terms and conditions – click on Agree.

You're almost done! The last step is to verify your email address. You have to log into the email you have specified; open the email message from Apple with subject "Verify your Apple ID." Click on Verify now, then you will be asked to enter your password from step 6. The last action is the two-factor authentication – entering the 6-digit code that you will receive.

It's done! You can now continue working with your iPhone or iPad.
You can also create an Apple account as early as when setting the default settings of your device. This happens when the Apple ID window appears on your screen. Follow the above given steps.
Another easy and convenient way is by logging into the icloud.com or appleid.apple.com sites using the browser of your laptop, computer, smartphone, or tablet. You click on Create Apple ID, and afterwards the procedure is absolutely the same.
Where can you use your Apple ID?
This account allows you to access your files and applications from any device and at any time. You can log in to your iCloud even from a Windows computer if you need important documents and photos that you store there. And its biggest advantage is that you can use it simultaneously on iPhone, iPad, MacBook, iMac, and other devices. In this way, your information is synchronised and your work – unobstructed.
What else is important to know?
We should also draw your attention to the fact that it is of utmost importance not to forget the password and e-mail address with which you have created your Apple account. In case of loss or theft, you will be able to block your device and – best case scenario – you will be able to even find it.
And if the time has come to replace your device with a newer model and you want to give away or sell the old one – you will need to unsubscribe from your account. Otherwise, the device becomes unusable for its next owner. In addition, no one wants to share personal information, especially with strangers, right?
Online and in the computer equipment stores of hop.bg you will find a wide variety of refurbished products of the Apple brand – second-hand iPhone, iPad, MacBook Pro and Air, with warranty and in excellent technical condition. If you haven't used an Apple smartphone before, and you want to keep important information such as your long list of contact and numerous photos, you can also look at how to easily switch from Android to Apple iOS (ancor to the article How to switch from Android to iOS device).
Previous post
Next post
Last publications
Last publications