Dell Precision 7920 Workstation Review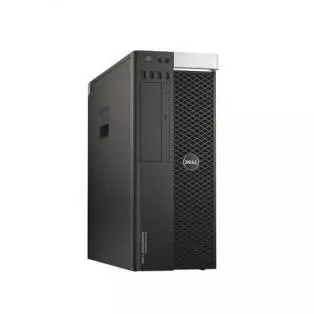 The Precision 7920 workstation is one of the really powerful workstations, offering countless options for plugging in or replacing components.
The huge variety of components is further improved after the first inspection of the workstation box.
At first glance, the front case looks modest - with a card reader, two USB 3.1 and two USB type-C. But in the lower right corner under the lid are slots in which four 4TB 3.5-inch drives can be inserted. A power supply module is located at the back of the box. It is replaced without even opening the box and without the need for tools.
The motherboard covers almost every inch of the inside of the server-style machine. It is covered by a plastic cover that directs the airflow around the processor and RAM modules.
Dell includes a label on the cover on the box diagram with ports, slots and connections on the motherboard.
The aluminum heatsinks on both processors sits between 24 RAM slots, 12 slots for each processor. The computer works with DDR4-2933 ECC RDIMM modules that run in six channel mode.
When fully equipped, the Dell Precision 7290 offers 56 processor cores and 112 threads, via two 28-core Xeon Platinum chips (models 8276 and 8280) that support up to 1TB DDR4-2933 ECC RDIMM.
In Hop.bg you can find Dell Precision 7920 with two Xeon Gold 6128, each of them with 6 cores and 12 threads or a total of 12 cores and 24 threads. Each processor has 19.25MB of L3 cache. Plus 32GB DDR4-2666 ECC RDIMM modules. Each processor can support up to 768GB DDR4-2666 ECC RDIMMs.
Our unit is equipped with an Nvidia Quadro P2000 graphics accelerator, which offers 160-bit, 5GB GDDR5, 1024 Cuda cores and a bandwidth of up to 140 GB/s. Options for connecting to four Display Port 1.4.
The workstation can support a maximum of two Nvidia Quadro RTX 8000. Each video card has 48GB GDDR6 ECC and 4,608 cuda cores.
Pros / Cons
Pros:
1: High efficiency
2: Countless configuration options
3: ISV certified
4: Easy to operate and configure
Cons:
1: Countless options quickly raise the price
2: The benefit of two processors depends on the use of the software
The Dell Precision 7920 is a high-end desktop workstation with upgrade options that convert to one amazing workstations.
The limitations come from the level of software / programs you will be working with.
Previous post
Next post
Last publications
Last publications