Dell U4919DW monitor review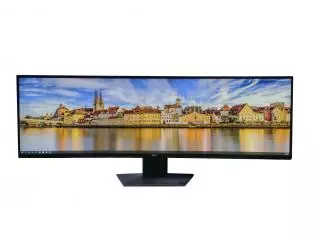 Dell UltraSharp U4919DW
The model is an interesting representative of business class monitors, not only because of its atypical size.
The Dell U4919DW's ultrasharp monitor offers the highest resolution for this size - 5,120 x 1,440 pixels, compared to Samsung's 49-inch competitor - 3,840 x 1,080 pixels.
In principle, a few pixels per inch means that there will be losses in the sharpness of the transmitted image, but U4919DW, thanks to its IPS panel, retains high image sharpness in photos and text.
The monitor is not designed for gaming and the refresh rate at which it operates is only 60Hz. It is also not equipped with technologies to reduce artifacts and tear the picture on fast-moving objects such as FreeSync2.
Dell U4919DW offers rich connectivity options. Two HDMI 2.0, one Display Port 1.4, a USB hub with two USB upgrades and five downstream USB 3.0 and USB Type-C. Through USB Type-C you can power mobile devices, even a laptop that supports 90W. At the same time, it serves as an informational, double-sided cable, all thanks to the USB-PD (USB power delivery) protocol.
The USB-Type C port also offers control of a virtual keyboard and mouse when working with two separate computers, as long as one is connected through the Type-C port to a Dell monitor.
This monitor is aimed at people who do multiple tasks at the same time - multitasking.
Dell Easy Arrange feature special software allows the 49-inch screen to be divided into six separate windows, and IPS technology preserves the colors and contrast of each, viewed from any angle.
Although it doesn't have some tempting gadgets on gaming monitors, with the U4919DW you'll spend hours enjoying your favorite computer games. If your video card is powerful enough to handle its resolution.
Previous post
Next post
Last publications
Last publications