How to buy laptop or smartphone on lease?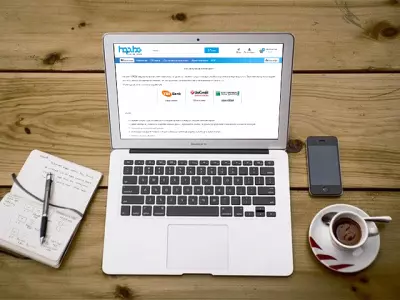 How to make an instalment purchase from Hop.bg?
Purchasing a laptop, a tablet, or a phone in installments is a great solution if you don't have any money saved, or if you have merely decided not to use up all your available funds. You can benefit from a Point-of-Sale (POS) loan, whether the product is an Apple desktop or portable computer, printer or another device. Monthly installments are equal in amount, and take your income into consideration. In this way, your family budget isn't burdened.
Hop.bg's partner network includes three reputable financial institutions:
• BNP Paribas Personal Finance;
• UniCredit Consumer Financing;
• TBI Bank.
According to the terms of our financial partners, you can purchase a product in installments if its price is higher than BGN 149. The upper limit of the loans they give is high enough to let you afford this service even for our most expensive products.
Who are our partners?
BNP Paribas Personal Finance has many years of experience with various types of loans. The bank has partnerships with nearly 2,500 small and large Bulgarian and foreign companies, including Hop.bg. The minimum amount for applying is BGN 150, and the maximum amount is BGN 12,000. The repayment period can be from 3 to 48 months. However, if the amount is smaller, the repayment period may be shorter than the maximum. You can apply online, or by visiting one of their offices throughout the country. No collateral is required, your ID is sufficient.
You can also rely on UniCredit if you decide to make an installment purchase from Hop.bg. The amount that you can get is from BGN 150 to 50,000. The repayment period is from 3 to 72 months.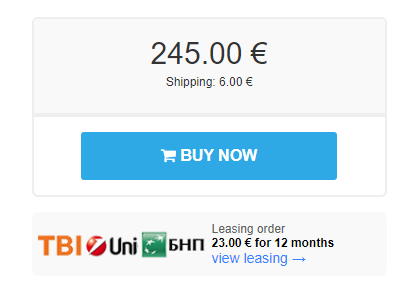 No collateral is required, all you need to apply is your ID card, and you do it online using the Eurotrust application.
TBI Bank also offers POS loans, and over 5,000 shops are its partners. You can get a loan of BGN 100 to 30,000, and the repayment period is from 3 to 60 months. Application can be done online or in one of the numerous offices of the company throughout the country. Approval takes up to 15 minutes, and all that is required is an ID card.
It is important to note that if you wish to purchase a mobile device such as a smartphone, a tablet, an iPhone, or an iPad in installments, the maximum period for which you can reschedule it is 24 months.

What's the interest rate?
As for the loans' interest rates, they are different for each credit institution and for the different repayment periods you may choose among. The interest charged increases in direct proportion to the extension of your chosen repayment period. For your convenience, a credit calculator is provided with the option to purchase a product from Hop.bg in installments. It allows you to make a comparison and decide which position is most advantageous for you. Take a careful look at the installment purchase options. It may be so that for one period the best offer is from TBI, and for another - from BNP Paribas or Unicredit. Interest is shown not only as a percentage, but also in actual monetary terms as added amount to the final price of the product.
How are installments made?
The ways to pay the POS loan monthly installments are so many and varied that it is hard not to find the most convenient for you. Please note that some of them are subject to additional fees. Here are the ways:
• In a bank office;
• The e-Pay system
• An EasyPay or a Fast Pay office - transfer fee from BGN 1.20 to 1.50
• Online banking - if you have one, it is recommended taking into account the significantly lower costs;
• Via an ATM with B-pay - free of charge if the card you pay with is issued in Bulgaria
• Cash terminal
• Specially developed Android and iOS apps
Hop.bg provides you with the opportunity to purchase a laptop, a smartphone, or a computer in instalments both online and in our physical stores in Sofia, Plovdiv, Varna, Pleven, and Ruse. Our consultants will not only help you in choosing the right device for you. They will also assist you with information on the terms and conditions and the entire procedure for applying for an installment purchase.
Previous post
Next post
Last publications
Last publications