Notification for replaced display, battery or camera on my iPhone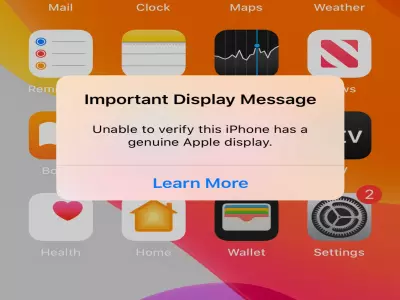 The smartphone is a device that we constantly use in our daily lives. And of course, when used, there is often a risk of dropping it, which unfortunately in most cases results in a broken display. And this, as you know, is not subject to warranty service, and for such repairs you will have to pay the respective price. Another component that we have to replace after a certain period, not due to our fault, is the battery. As a type of consumable, for each smartphone manufacturers give a different warranty period during which you can change it for free.
Today, we will pay attention to Apple smartphones, and more specifically, what happens when one of the components is replaced in newer models? For example, for those of you who have had to replace the Home button on your iPhone 6, it is known that such repairs will leave you without the Touch ID function. After such a repair, every time you switch on your screen, a notification appears that the fingerprint sensor is not working. The models after iPhone XR have a small peculiarity. Let's look at it in more detail.
When and where does a notification appear on my iPhone that a part has been replaced?
Here's what the overall picture looks like. Take note that these are situations where the relevant parts, whether originals or substitutes, have been replaced in workshops not authorised by Apple.
If you have an iPhone XR, XS, XS Max, SE 2nd Gen or a newer model, when replacing the battery in the Settings — General — About menu you will see a history of the serviced parts — Parts and service history. In the case of Battery, you will see the Genuine Apple Part message.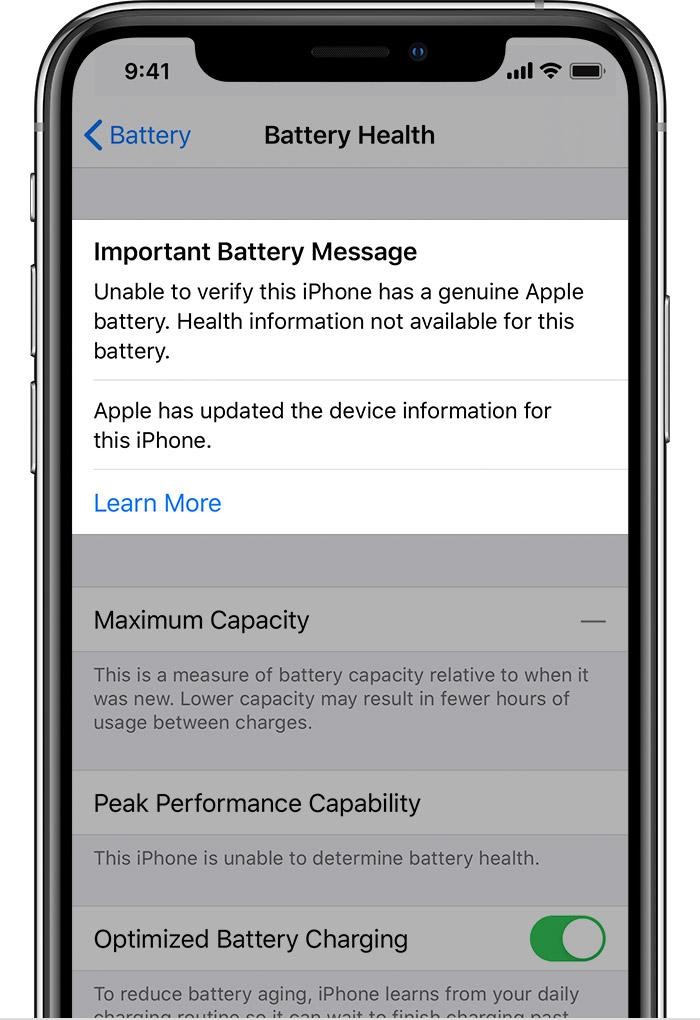 If your phone is iPhone 11 or the versions Pro and Pro Max, in addition to a replaced battery message, you'll also see a notification when replacing a display — Important Display Message. Once you open it, you will receive the following warning — Unable to verify this iPhone has a genuine display — We can't verify whether your iPhone is working with an original Apple display.
If you have iPhone 12, 13 or any of their respective versions, you will also see a message when the camera is replaced.
Should we use alternatives or original parts?
This is probably the one question users are most interested in. We often have doubts about the quality, their origin, whether they will give us a warranty for the repair, whether we can trust the service shop we have chosen, etc.
In fact, you can forget all your worries. Alternative parts can work just as well as original parts, as long as they are pre-checked. They provide performance and quality similar to that of the original ones. I.e., a high-end non-original display, for example, can provide very good images brightness, saturation, and sharpness, and features such as True Tone won't be lacking. In terms of battery — the high-quality alternatives provide capacity and durability indistinguishable from that of the original one.
A notable and significant difference would be the price you would pay. By choosing to repair your iPhone with non-original parts, you will save a significant amount of money. If, however, you prefer the originals and decide to trust entirely and solely one of Apple's repair shops, keep in mind that the cost of repair will be many times higher.
And whether these messages will ever be removed — no, there won't disappear, until the relevant component is replaced by an original one in an authorised Apple service shop, where they will use a software to delete the old serial number of the replaced component and will enter the new one. So you'll just have to ignore it.
Online and in our showrooms you will find a variety of second hand iPhones. And, as we have already mentioned, each product has undergone complete performance tests and has been serviced, if necessary, with the highest class of components. With this, we guarantee you excellent technical quality and we give you a 12-months warranty.
Previous post
Next post
Last publications
Last publications