The difference between refurbished and revalued monitor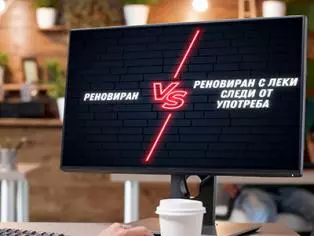 One of the most frequently asked questions related to used equipment at hop.bg is about the difference between refurbished and revalued products. Also, why are revalued products significantly cheaper? This can refer to the following categories: laptops, smartphones, tablets, and monitors.
Today we will focus on the last category, and will explain in detail what are the similarities and the differences between a refurbished and a revalued monitor. Which of the two options is suitable and more cost-efficient for you? Which one is more worth buying? You're about to find out.
Do I choose a refurbished or a revalued monitor?
We will start with a comparison of the same model, for which at hop.bg you will find both options. We will use HP EliteDisplay E232 as an example.
Characteristic

s


The technical specifications - resolution, viewing angle, ports for connection to a computer or a laptop, and matrix type - are as per those set by the manufacturer. Regardless of the status of the model, they cannot be different.

Cosmetic and technical condition




This is the second criterion, but not in terms of importance, according to which we choose a second-hand monitor. Each product at hop.bg has undergone complete performance tests, which guarantees its impeccable functionality. And now is the time to explain the difference between the two options of the same device. That's exactly the cosmetic condition.


In the case of revalued products in this category, there are minor defects in the appearance, which may be scratches, light or dark spots, or a combination of both. They are usually caused by pressure during transportation and use. And they do not affect in any way the normal operation of the device. Also, over time, these defects will not increase in size.


In the attached photos you can see the differences in the appearance of the HP E232 options.

Price




After we have already clarified that every used monitor at hop.bg is in excellent technical quality and comes with the same warranty, but in a different cosmetic state, we should also discuss the price. It is the second aspect in which they differ. The revalued ones have minor defects in the display, so their price is lower. By choosing this option, you save between 20 and 30 %. In the higher price category, this is equivalent to 80-100 BGN.

Warranty




The warranty period for both refurbished and revalued products is 12 months. Thus, your peace of mind is equally guaranteed, no matter which of the two options you choose. We at hop.bg have a repair service with many years of experience in refurbishing and repairing electronic equipment. If you think that the product does not work properly, we will take measures as quickly as possible. This applies to devices with both active and expired warranty.



What are refurbished and revalued monitors suitable for?
Based on the above comparison, you can easily determine which product is suitable for you. If you are a perfectionist, you do not compromise with the details, or simply your work requires working mostly with documents, then the refurbished models are the right choice for you.
If you want to buy a high-end used monitor at the lowest possible price, and the presence of cosmetic defects is not a problem for you, then revalued devices are your optimal choice. They are suitable for dynamic imagery - movies, games, advertising screening, and video surveillance - here these defects are hard to see or are not noticeable at all.
Regardless of which of the two used monitor options you will choose, first it is necessary to determine exactly what you will use it for. At our online and physical stores, you will find high-end devices of the Dell, HP, Lenovo, Fujitsu, Apple, BenQ, Philips, NEC, EIZO and other brands, with standard TN and IPS matrices. How to choose a monitor for designers, architects, or for work at home and in the office, we will discuss in a separate topic.
Previous post
Next post
Last publications
Last publications