5 ideas for gifts from hop.bg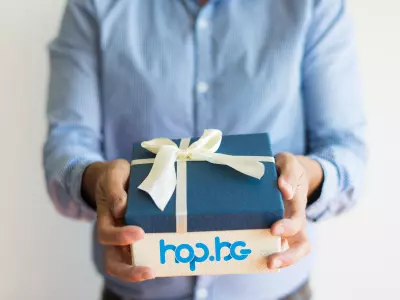 We decided to write this article in order to help you make a great gift that will bring joy to the person for whom it is intended. Thanks to our extensive experience in the technological world, we at hop.bg have selected several ideas and tips that will help you make the right choice. And before you continue reading, we would like to ask you not to adhere to our recommendations when choosing clothes, footwear, or a car :)
These recommendations only "work" when choosing computers, laptops, smartphones, and the entire range of equipment that we offer at hop.bg.
1. A gaming PC or a laptop
Undoubtedly, this is one of the most desirable gifts children want from Santa Claus or for their birthdays. Here's what you need to know:
the titles of the games - it is of utmost importance that we have this information. Each game has certain hardware requirements that we have to comply with.

budget - before you determine the amount for this type of purchase you should be aware of the dynamics in this industry. What do we mean? All gamers would like to be able to upgrade their machines in time. With each new version, games become more and more demanding in terms of technical specifications.
As new, desktops of this class are offered at a price of up to 3000 BGN, and laptops - up to 6000 BGN.
We will also give you a specific example. Does your child play popular games like:
Fortnite;

Grand Theft Auto 5;

Crysis;

Assassins Creed;

FIFA 2019/2020, and others?
A suitable and inexpensive choice would be a refurbished computer from hop.bg (https://hop.bg/bg/komputri-110), which has a fast and powerful i5 or i7 processor, sufficient RAM memory, and a large-capacity SSD drive. The size of the box and the motherboard should also be taken into consideration, as it depends on them whether the video card you purchase will be compatible.
What should the video card be? The gaming series of nVidia GeForce is one of the most preferred. It is also important to know that currently, in 2021, the prices of video cards for gaming machines are significantly increased.
A refurbished workstation is also a suitable choice. This class of computers is also a great choice, and will save you a lot of money. They have hardware that could be used with most of the famous gaming titles.
For more details on choosing a gaming computer, read our article "How to choose a gaming computer," and "Is it possible to use a business computer for games."
2. A smartphone or a tablet
Anyone in the family would be happy if you gave them a phone or a tablet as a gift. But how to decide what model to choose? Here are a few aspects to consider:
favourite brand




Of course, if the person you want to make happy is a devoted Apple fan, they won't be glad if they get a Samsung, for example. Therefore, you can choose options for a newer model than the one they currently use.

interface, features and design


For some people, it is important to have a smartphone with a good camera for great pictures on Instagram and Facebook. For others, the body colour just has to be pink, golden, etc. Yet other people want the phone menu to be in Bulgarian because they do not understand foreign languages. If the gift is for a person from the third group, keep in mind that Apple devices - iPad and iPhone - do not have a Bulgarian menu. And regardless whether you choose an Android or an iOS device, both types provide features according to our needs.
purpose
If you are buying, for example, a drawing tablet - it is recommended to choose a model with at least a 10-inch screen and one that is able to work with a pen. If it will be used for communication anywhere and at any time – it'd be better to choose options with a mobile connection module.

price




Undoubtedly, Apple's phones and tablets when new are very expensive. But at hop.bg you can find cheap refurbished iPhones and iPads, as well as Samsung, Huawei and other brands devices.
To get help with your choice, see our article "How to choose a smartphone"
3. A laptop for work, for home, or for when on the move
A laptop is also a great gift choice for both the little ones and the adults. But how to choose a suitable model? First of all, you have to answer the question: what's it going to be used for?
If it is going to be used mainly on the move, then an ultrabook is a perfect choice. The models of this class have thin and light bodies, and screens from 12.5 to 14 inches. There are also 2-in-1 options. These are, for example, Dell XPS 13 9365 and Lenovo ThinkPad X1 Yoga, which easily turn into Windows tablets.
If the laptop will be used for professional purposes - by designers, architects, or engineers - then mobile workstations such as HP ZBook, Dell Precision, Fujitsu Celsius, Apple's MacBook Pro series, etc. are suitable.
You can find more specific guidelines in our article "How to choose a laptop for work, for the office, or for professional use?" Link to article How to choose a laptop for work
For watching movies, listening to music, browsing the Internet, or online learning - any laptop would do the job. These applications do not require powerful hardware. And hop.bg has a huge variety of laptops for everyone.
4. A computer for the entire family
A desktop computer in combination with a monitor is a nice gift idea for our loved ones. And it's a great substitute for the laptop, especially when one has to work with it for a long time. The large screen offers more convenience, especially when working with documents, reading long texts, and watching movies. And the standard keyboard makes typing easier.
Depending on the space you have available, you can choose among various sizes - from an ultra-small format to a large box. There are also All-in-One devices that combine a display with a computer configuration.
How to choose a suitable computer? Once again, its purpose is of importance.
5. What NOT to choose for a gift?
The ideas for interesting gifts from hop.bg are numerous. But here's what we think is boring, and we do not recommend giving it as a gift:
A printer – that is a device that we use mostly in the office, we rarely need it at home. Also, this kind of a gift would remind users of their work instead of the person who gave it to them. And hardly anyone would be happy to find a printer inside the big and beautiful gift wrapping.

An Android device instead of an Apple one, and vice versa - as already mentioned above, if the user has strong brand preferences, it would be a bad choice to choose different from what they like.

Low-quality electronic equipment - this is an inappropriate gift option in general. It is possible that the newest low-end laptop model is with worse parameters than the device the gift recipient has had for 2 years, but it is from a reputable manufacturer. Cheaper products are suitable for children because of the possibility that they will damage them faster. Also, a well-functioning piece of equipment would not disappoint the user with low quality. After all, the aim is for the recipient to keep good memories of the person who gave them the gift.
What can I do if my choice turns out to be wrong?
Of course, it's not fatal if you've made a mistake in your choice. The Hop.bg online store gives you the right to return your purchase within 14 days. You have the option to replace the product with another at the same price, or to pay more for a more expensive one. It's your decision.
Make your family and friends happy by giving them high-end equipment with warranty. We're convinced that your gesture won't go unappreciated. If, however, the price is beyond your means, we also offer an installment purchase option.
Previous post
Next post
Last publications
Last publications