What is the difference between iPad, iPad Pro and Mini?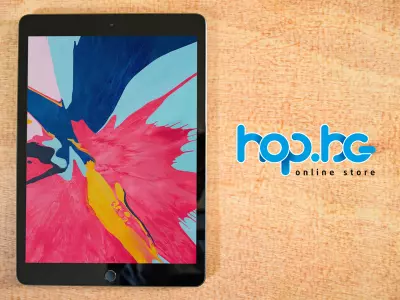 Apple is one of the undisputed leaders in the market for mobile devices, not only for phones but also for tablets. With the advent of each new Apple model, it is becoming increasingly difficult for some consumers to make a significant difference between the new models and their predecessors. Therefore, we at hop.bg will make a comparison between the different models of iPad tablets and will explain the differences, which are not small.
Basic similarities between Apple tablets
OS
All iPad tablets use Apple's iOS operating system.
Users and loyal fans of the iPhone and iPad, and in general of the devices of the brand define it as fast and reliable. Provides trouble-free operation with the most popular and most of the applications we use in our daily lives.
Color

All are available in silver and cosmic gray. After 2014 (iPad Air 2, iPad mini 3) appeared in gold. In 2015 Apple diversifies the color range by applying Rose Gold for the 10.5-inch Apple Tablet Pro, iPad 5th Gen, 6th Gen and others.
Internet connection

Each model has built-in Wi-Fi. Also available in Wi-Fi + Cellular version (with 3G / 4G module for SIM card with mobile data).
Security

Each tablet of the brand has the option to lock the screen with the so-called pass code. After 2014 they also have a Touch ID fingerprint sensor. And from 2020 - iPad Air, Pro 11 and 12.9 have FaceID - screen unlock via face recognition.
Battery

Apple claims that each Apple tablet has about 10 hours of battery life, regardless of size, and is charged using a Lightning cable.
What are the differences?

Display
The most immediate visible difference between all the different iPads is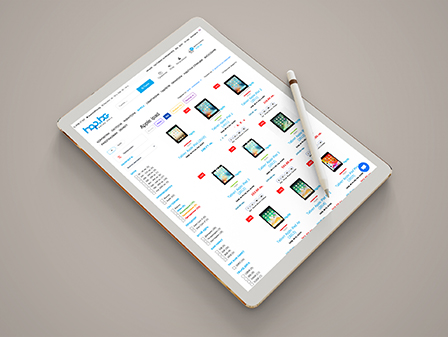 the screen size and device size, respectively. There are four options:
12.9 inches - typical for iPad Pro 12.9

10.5 inches - typical for iPad Pro 10.5

9.7 inches - the most common screen diagonal in iPads, which is why it is often called a 10-inch tablet

7.9 inches - this diagonal is found in the Mini and is often referred to as 8 inches
For newer tablet models, the screen uses an additional "TrueTone" function. Thanks to it, the screen balances the white light in tone with the light in the room.
Let's move on to the more significant differences, we are certainly all aware that there are different sizes of tablets.
Processor
Let's look at some of the latest versions of Apple tablets.
iPad Pro uses the newer A10X Fusion chips, while the iPad uses the older A9, which is about 30% slower when working with 1 core and about 80% slower when working in multycore.
The Pro models are also about 150% more powerful than their younger brother Mini, who uses the older A8 chip.
Again, we see that with PRO you will have much higher performance and picture quality. Keep in mind that the difference in power will be observed mostly in heavy professional applications and in some games. If you want the tablet to browse the Internet or check your mail, you will hardly be able to see the difference between the different options.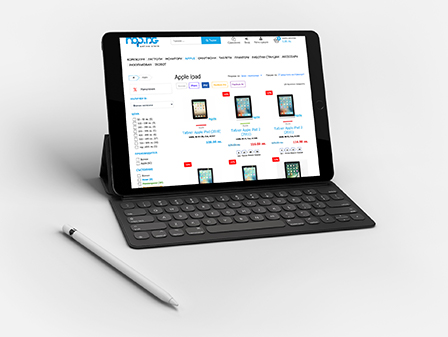 Support for additional accessories

Another significant difference that we can not skip is the support of different devices. It is almost impossible to do professional work on a touchscreen, so you will need an accessory such as a pen or keyboard. Luckily for those of you who have chosen or referred to the iPad Pro model, there is a huge range of this type of accessories on the market.
An example of this can be given with the Apple Pencil (2nd generation) iPad mini 4 does not support it, but both Pro versions have it as an option, and the same goes for Magic Keyboard and Smart Keyboard Folio.
However, don't worry if you stop at the iPad 9.7 or iPad Mini. They are Bluetooth variants that you can use, with the difference that they may lack some of the options offered by Apple's professional accessories.
Camera and sound
The next thing we need to pay attention to is the camera and the audio.
The differences vary for different years and the exact model, but for now we will again take one of the last generations for comparison.
IPad Pro models come with 12MP Wide and 10MP Ultra Wide cameras.

The 8th generation iPad only comes with an 8MP Wide camera.

The 4th generation iPad Air has 12MP wide, but not Ultra Wide.

The iPad Mini 2020 only has an 8MP standard camera.
Apple's professional models also have the option to shoot video in 4K resolution, while others are limited to 1080p.
For the audio, we can only say that the PRO models have 4 speakers, while the other models have only 2, while the iPad Air works in landscape mode, and the rest support only standard.
Finally, we can summarize that no matter which model of iPad tablet you choose, it must be fully consistent with what purpose it will be intended for - professional use, work with documents, learning, music, internet, games.
Previous post
Next post
Last publications
Last publications