HOP.BG with new store - showroom Plovdiv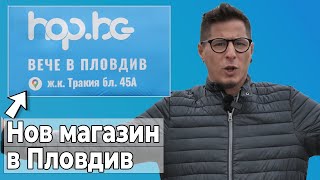 On September 13, 2021, the sixth Hop.bg store was officially opened. In our new showroom located in Plovdiv you have the opportunity not just to buy a high-end computer or laptop but also to receive kind and adequate service from our experienced consultants.
Watch our short video to find out more about our newly opened retail outlet. What else can you buy? Where exactly is the store located? Why visit us? You will find answers to these and many other questions in the video.
Hop.bg chain of stores for refurbished equipment with a new showroom in Plovdiv. See the wide variety of laptops, computers, Apple, monitors and many other products.
Hop.bg opened its sixth store for refurbished equipment in Bulgaria. See more about Showroom Plovdiv and the great variety of laptops, computers, smartphones and iPhones, etc.
Previous post
Next post