Video review of Samsung ML-3710ND printer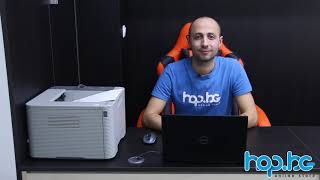 Samsung ML-3710ND is a black and white laser printer and is designed to match the needs of every business. As regards physical dimensions, it is relatively small and can easily fit on any desk. It offers qualities such as simplified use, secure and environmentally friendly operation, high printing speed, low cost consumables.
The speed of 34 pages per minute in the A4 format is secured by a 600 MHz processor and 128 MB of built-in memory. The 3710ND printer also has the highest first-page-out printing speed in this class – 6.5 seconds, and the resolution is 1200x1200 points per inch.
Ml-3710ND has a monthly duty cycle of up to 80,000 pages, and is offered with a standard toner cartridge for 5000 copies and a large toner cartridge for 10,000 copies, reducing the price per page.
Another advantage is the possibility to use the printer from several workplaces in a Gigabit LAN (a network with internet connection providing a data rate of 1 gigabit (Gb) per second), thus reducing the cost of service and consumables.
Previous post
Next post