How to choose a monitor for design?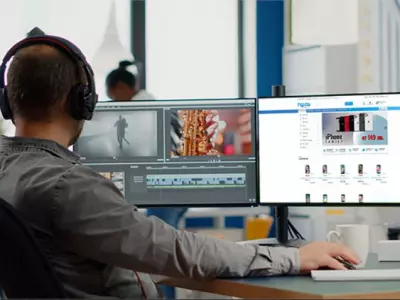 If you are a photographer, an architect, a special effects or games designer, and in general your work involves processing of graphics, images and videos, then you need a professional grade monitor. And with this article, we at hop.bg, aim to offer you guidance on how to choose the right model. Here's what to focus on:
Display technology, size and resolution;

Colour accuracy and colour gamut;

Calibration options;

Design and connectivity options.
In this article we will explain each of these details. These are important characteristics that a graphic processing monitor should have in order to be of use for the respective purposes.
Display technology, screen resolution and screen diagonal
Professionals need screens with rich and realistic colours. In addition, the images should have clear lines and contours. These features can be provided by a display with the so-called IPS (In-Plane-Switching) technology. This technology has the best performance. Here are its advantages:
More accurate colours - the reason is that backlight passes through the LCD crystals in a different way compared to standard TN screens;

Wider colour gamut - IPS displays have 8-bit panels (8 bits of red, green and blue) and can display the full 24-bit colour depth of a typical graphics processing unit (GPU). Standard 6-bit panels rely on additional steps to achieve the full colour gamut.

Better viewing angles – the viewing angle affects colour consistency. When you look from a different angle, the images lose their contrast. And this image deterioration obstructs your work. In IPS displays, the crystals work parallel to the device, and not perpendicular as in TFT models. In this way, the colour and the contrast do not change, no matter from what angle you look at the screen. They are usually up to 178 degrees horizontally and vertically.
In terms of size and resolution, your activities are of special importance. The aim is to have a complete view of your work while still having sufficient space for toolbars. A minimum display size of 24 inches is recommended. However, if you are an architect, you want to edit more than one image, or to work with two applications simultaneously, then you will feel more comfortable with larger screens.
As regards the resolution, it is important to note that it is not related to the size. Screens of the same size may have different resolutions. Most professionals choose 27-inch or larger, with 4K resolution for a sharper and clearer picture.
Maximum colour accuracy
As regards the displays' accuracy – it largely depends on several functions to create realistic images.
Colour gamut – that is the range of colours that the device can display.

Colour space - this is a specific colour combination. The three most common are sRGB, Adobe RGB, and ProPhoto RGB. Adobe RGB has a wider gamut than sRGB, which means there are more colours to choose from.
For example: If you capture an image with an Adobe RGB camera, and then view it on an sRGB display, some colours will be missing. In other words, if you look at photos on a monitor with a narrow-gamut colour space, you will see images that are more blurry and less bright.
Professional monitors have at least 90% sRGB and 70% Adobe RGB coverage (ideal for printed images).
Colour calibration
Calibration of the monitor includes testing and adjustment to confirm that the colour gamut it displays meets the standard. Professional grade monitors often have the advantage of being pre-calibrated. This means that the manufacturer has made an additional effort, and has performed the respective tests and adjustments.
Design and interfaces
A well-designed monitor will increase your efficiency and performance. Elegant models with a thin frame provide larger work area, as well as the option to use two or more displays next to each other, without having a sharp boundary between them. And most professional grade models also have options for rotating, tilting, wall mounting and others.
In addition to the standard video ports - HDMI, Display port, DVI, VGA, many manufacturers integrate the so-called USB hubs, which effectively turn the monitor into a docking station. In this way, you limit crowding your workplace. Professional models also often use universal two-way USB Type C connectors, which are capable of transferring video, data and power over a single cable.
In conclusion, whether you are an artist, a video editor, or a photographer, the monitor is one of your main work tools. That is why, when choosing a monitor, you should not compromise with any of the above characteristics. With the models designed for professional use you can rest assured that the nuances and the overall detail and sharpness of the picture will be as realistic as possible. In this way, you will do your work as per high standards and there will be no discrepancies with the final product.
In our online store, you will find a variety of refurbished and revalued models such as Dell's UltraSharp, HP's Z-Series and EliteDisplay, Eizo and many others. Among them you will find the right option that meets both your budget and quality criteria. And here's how to choose a low price monitor from hop.bg.
Previous post
Next post
Last publications
Last publications